NANHAI

PNEUMATIC RUBBER FENDER
Pneumatic Fenders Leading Anti-collision Device for Marine Application also called pneumatic fender, rubber fender, yokohama fender, made by rubber & multi layer of rubber-dipped tyre fabric, is a leading anti-collision device for marine application in the world today.

Pneumatic Rubber Fender Leading Anti-collision Device for Marine Application have become an ideal ship protection medium against collision among ship-to-ship (STS), ship to quay (STQ) and ship-to-berthing (STB), they are widely used for large tankers, vessels, docks, harbor wharfs and ocean platforms.

NANHAI FLOATING PNEUMATIC SHIP RUBBER FENDER STRUCTURE

Floating marine ship rubber fender is made of synthetic-cord-reinforced rubber sheet with compressed air inside to enable it to float on the water and work as a shock absorber between two ships, or between ships and berthing structures when they come alongside each other on the water.
The fender body is constructed of an inner rubber layer, reinforced cord layers and an outer rubber layer. All of these layers are vulcanized together.
The outer skin rubber compound is designed and manufactured to be able to withstand both strenuous use including abrasion during adverse weather conditions whilst protecting the cord layers and inner rubber.
The synthetic tyre cord layers are arranged and designed to distribute load and stress evenly, which maintains the internal air pressure of the fender.
The inner rubber compound is designed to be completely airtight, utilising a compound equivalent tothat an inner tube of a car tyre.



CLASSIFICATION OF PNEUMATIC SHIP RUBBER FENDER

Fender types:
1.Net-type fenders: fenders which are covered by a tire chain net, each end shall be linked together with one to two ring(s).
2.Sling-type fender: fenders which are designed to be used without a protection net.
Initial internal pressure:
1.Pneumatic fender 50 (initial internal pressure 50 KPa)
2.Pneumatic fender 80 (initial internal pressure 80 KPa)




PNEUMATIC MARINE SHIP RUBBER FENDER APPLICATION
Floating pneumatic marine ship rubber fender could be used as a protective medium for ship-to-ship operation(STS), ship-to-quay(STQ) and ship-to-berthing(STB). And suit for various vessels, like:
1. Tankers, Gas Carriers and Bulk Cargo Ships;
2. Fast ferries and aluminum hulled vessels;
3. Temporary of permanent installations;
4. Rapid response and emergency fendering;
5. As stand-off fenders to realign ships with shore facilities.

PERFORMANCE CALCULATION OF NANHAI - PNEUMATIC FENDER

The volume of the fender at free state is Vo, and the interior pressure (i.e. original pressure) is Po; when the fender is compressed by dx, its volume is Vx, its interior pressure Px, and its contact Sx.
Its counterforce, Rx, can be calculated as follows: Rx=Px:Sx
At this time, its energy absorption, GEA, calculated as follows: GEA=JxoRxdx
The curve of interior pressure Vs deformation relationship during fender compression test is listed in Table Size, performance and weight of pneumatic rubber fender


MAJOR STRENGTHS OF NANHAI-PNEUMATIC FENDER
NanHai-Pneumatic Fender is strictly produced according to ISO17357-1:2014standard and PIANC guideline in NanHai

1. According to: ISO17357-1: 2014
2. Use H.D.G. chain and truck tire net
3. Self-patented safety valve
4. Test Compression over 3000 Times
5. Lower transportation cost, Fender transporte can be folded. Saving 2/3of transportation cost
6. Easy maintenance: our fenders just need inflation once every six months
7. Long lifespan: it is guaranteed that our fenders can be used forover 10 years under normal conditions
8. High safety level: our pneumatic fenders can stand the maximum pressure up to 4 times that of the operating pressure
9. one-to-one VIP service.
10. lifelong after-sale service.
11. Teach customers to use the products on site .
12. Any questions will be replied within 24 hours.
NANHAI-PNEUMATIC FENDER SPECIFICATION
Nominal size

INTERNAL PRESSURE 0.08Mpa
at 60% deflection

Safety-valve pressure setting

Testing pressure

Diameter

Length

Energy absorption

Reacion force

Hull pressure

mm

mm

kN·m

kN

kPa

kPa

kPa

500

1000

8

85

174

-

250

600

1000

11

98

166

-

250

700

1500

24

180

177

-

250

1000

1500

45

239

160

-

250

1000

2000

63

338

174

-

250

1200

2000

88

390

166

-

250

1350

2500

142

561

170

-

250

1500

3000

214

761

174

-

250

1700

3000

287

840

168

-

250

2000

3500

430

1150

168

-

250

2500

4000

925

1815

180

230

300

2500

5500

1317

2653

195

230

300

3000

6000

1890

2906

196

230

300

3300

4500

1640

2476

171

230

300

3300

6500

2532

3961

191

230

300

3300

10600

4281

6907

208

230

300

4500

9000

6633

7551

192

230

300

4500

12000

9037

10490

202

230

300
Nominal size

INTERNAL PRESSURE 0.05Mpa
at 60% deflection

Safety-valve pressure setting

Testing pressure

Diameter

Length

Energy absorption

Reacion force

Hull pressure

mm

mm

kN·m

kN

kPa

kPa

kPa

500

1000

6

64

132

-

200

600

1000

8

74

126

-

200

700

1500

17

137

135

-

200

1000

1500

32

182

122

-

200

1000

2000

45

257

132

-

200

1200

2000

63

297

126

-

200

1350

2500

102

427

130

-

200

1500

3000

153

579

132

-

200

1700

3000

191

639

128

-

200

2000

3500

308

875

128

-

200

2500

4000

663

1381

137

175

250

2500

5500

943

2019

148

175

250

3000

6000

1309

2387

148

175

250

3300

4500

1175

1884

130

175

250

3300

6500

1814

3015

146

175

250

3300

10600

3067

5257

158

175

250

4500

9000

4752

5747

146

175

250

4500

12000

6473

7984

154

175

250
FOR NANHAI BRAND



NanHai Brand established since 2003, Own advanced brand effect in the world. we have always focussed on our valued customers and committed to airbags and pneumatic fenders manufacture and R&D. As time moves on, we are continually engrossed in the challenges of this ever changing world.
Our commitment to you, our customers, is that we endeavour to provide the best value solutions to your technology problems.
During company development history have very famous project case and abundant experience.
We look forward to meeting your challenges of the future as a significant supporter of your business.

FOR NANHAI QUALIFICATION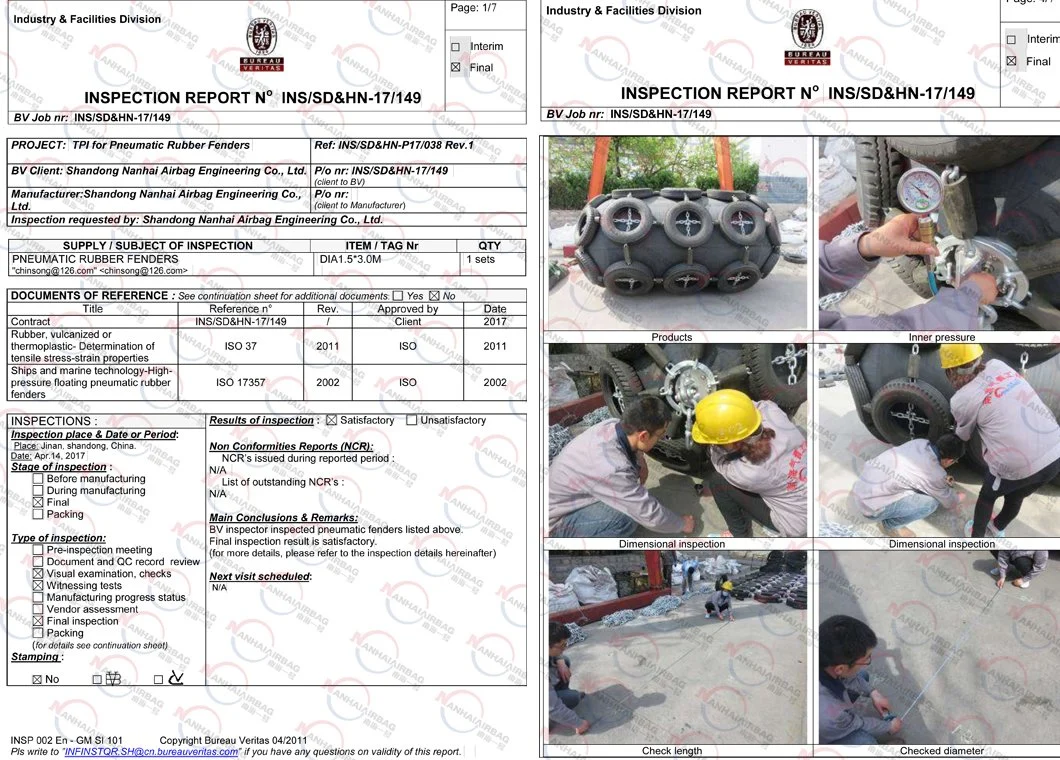 FAQ

1."I have ships but don't know how to choose the size of marine fenders, can you help me."
Answer: Don't worry. We have more than 20 years' experience. Pls tell me information of your ship, we can suggest suitable size for you.

2."I want to try your marine fenders, but I never use it and don't know how to use, can you help me?"
Answer: Don't worry. We will send instruction book together with marine fenders.

3."What's your MOQ?"
Answer: Our MOQ is 1PC.

4."How about the lifespan of your marine fenders?"
Answer: Designed lifespan of our marine fender is 6 to 12 years

5."What's your warranty period?"
Answer: Our warranty period is 2 years. we will responsible for the repairment or replace the new ones for you if it proved to be our quality problem.

6."What kind of certificate can you provide ?"
Answer: CCS, SGS, BV, ISO17357 etc. certificate is available