Main Features
Sinoway pontoons are standard made with alloy steel sheets,which is with high tensile strength and good corrosion resistant. For special applications like off-shore or salty areas, full weathering steel pontoons are also available as optional.For those applications require extra anti-corrosion, Sinoway offer hydraulic undercarriage pontoons with marine grade ship plate steel and with epoxy coating.
Reliable structure for durability and easy maintenance
Each pontoon is with three independent compartments, hermetically sealed. Two or three chains on each pontoon. Dual-layer bottom plate structure ensure the pontoon for a much longer service life, marine coating is also available as optional.
Wear-proof Steel Track Cleats
Heavy duty marsh buggy track chains are constructed with high strength tensile steel, the bushings and pins are stronger, each pontoon comes with two or three heavy duty track chains, track cleats are fixed on the chain pitch welded or bolted. The hardened track chain rollers run in pontoon channels with a strip of wear resistant steel. The drive and idler sprockets are flame hardened to match the hardness of the track chain rollers.
Amphibious Modular Design
Designed to be easily transported by low bed trailer. Amphibious modules and attachments are designed to be able to fit into 40ft container. Both the assembly and disassembly processes can be achieved in under 3 hours if equipped with proper tools and crane. No special tooling is required for the assembly and disassembly process.
Product Show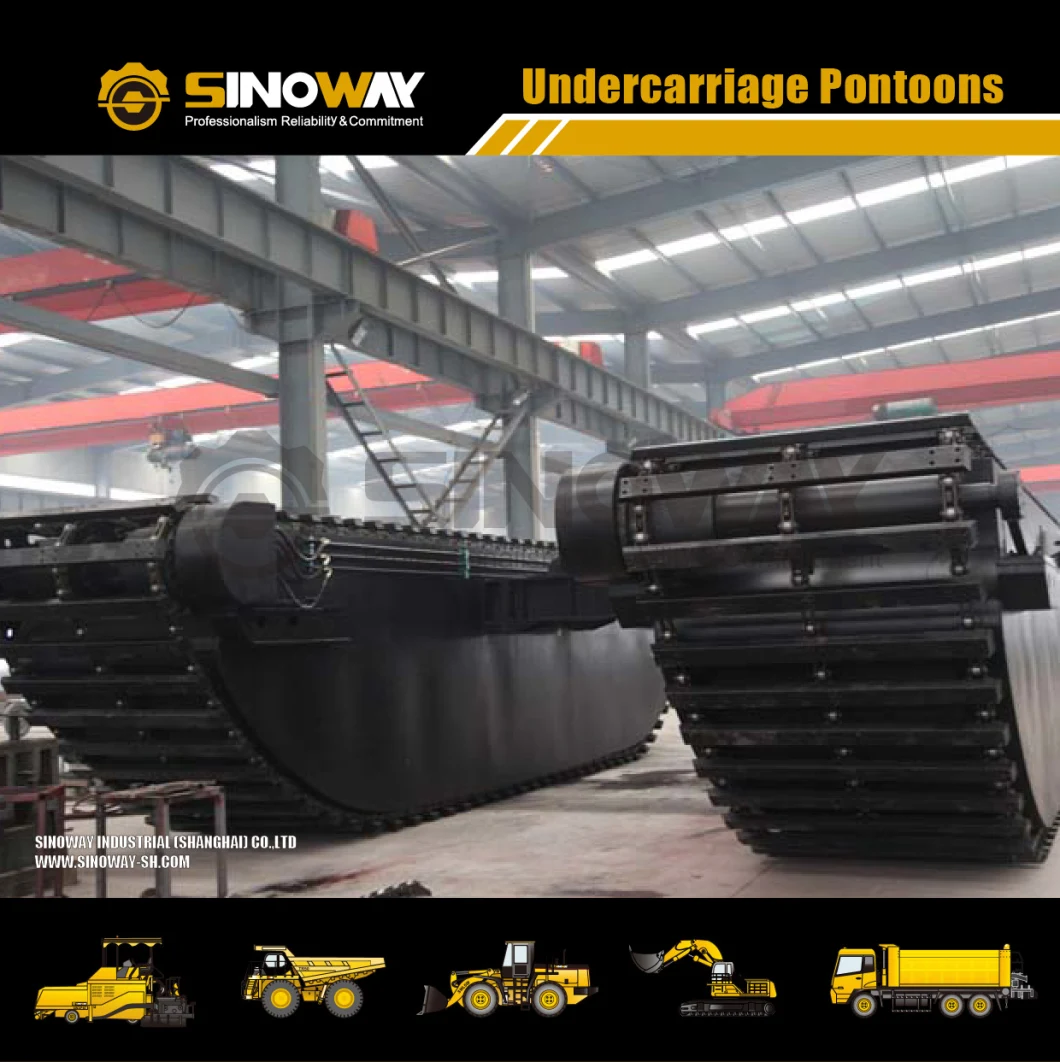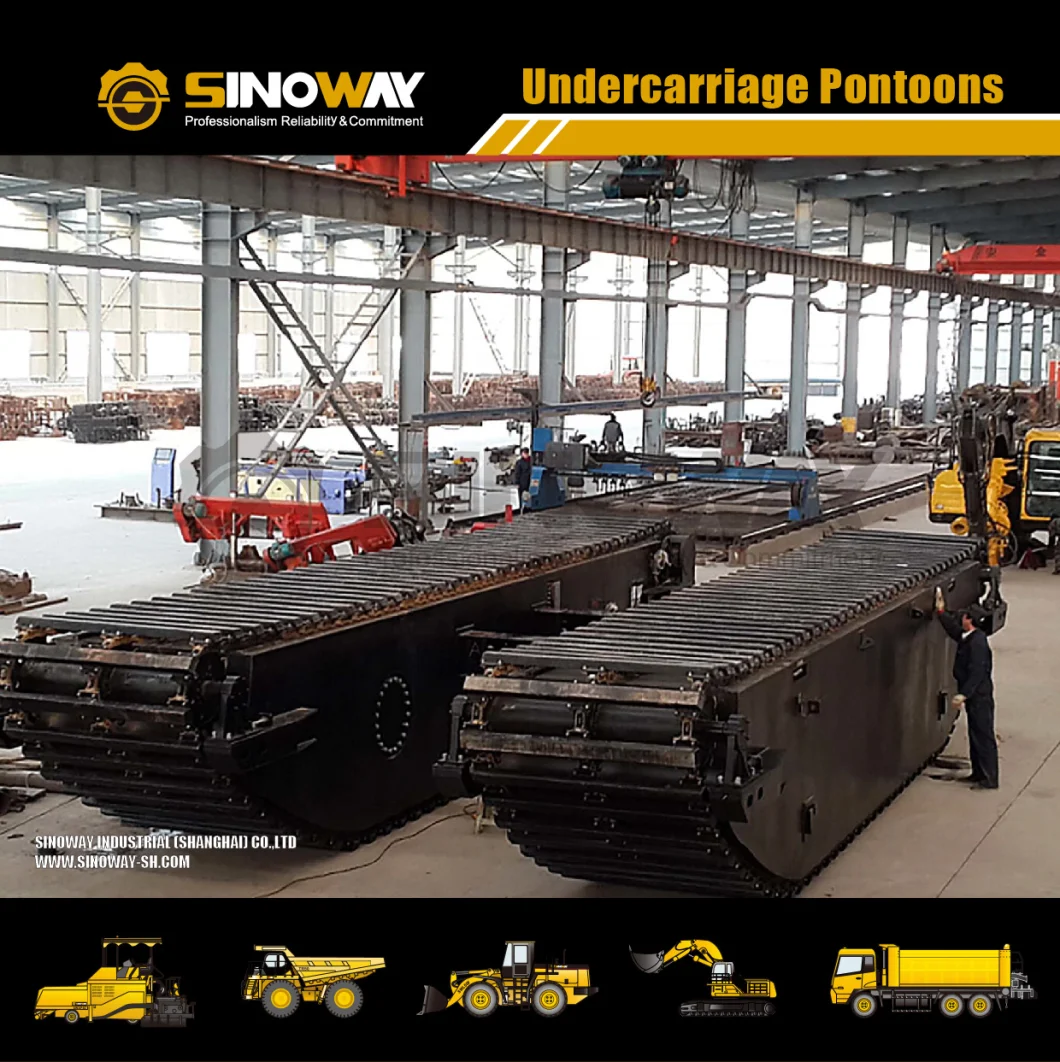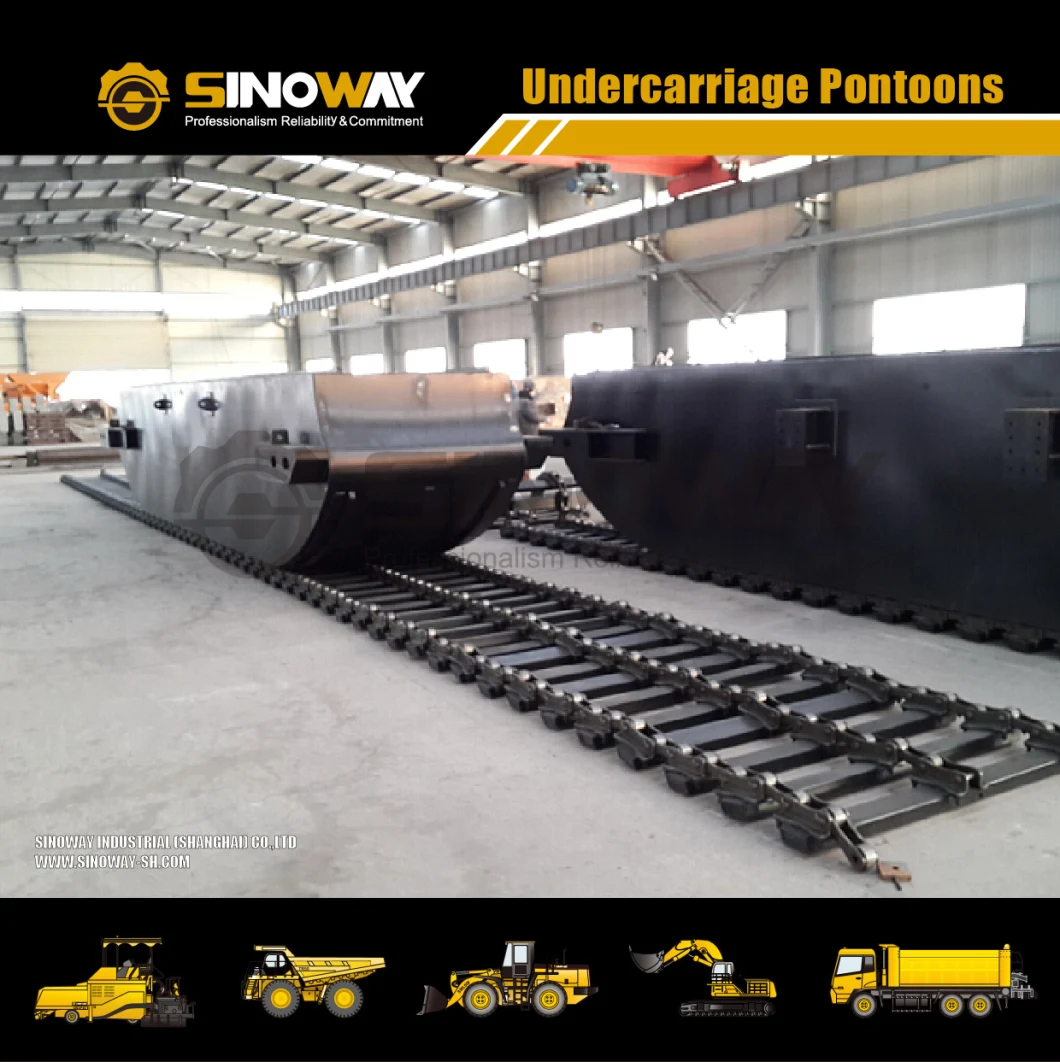 Specifications
Pontoon
SWPU60
SWPU70
SWPU80
SWPU90
SWPU100
Pontoon length
6.7 m
7.1 m
8.5 m
9.5 m
10.2 m
Pontoon width
1.3 m
1.5 m
1.5 m
1.5 m
1.7 m
Pontoon height
1.4 m
1.5 m
1.5 m
1.5m
1.76 m
Track material
Steel or PE
Steel or PE
Steel or PE
Steel or PE
Steel or PE
Track width
1270mm
1454mm
1700mm
1700mm
1700mm
Chain numbers
2
2
3
3
3
Matching upper excavator
8 ton
(CAT 308)
13~15ton
(CAT 311,312,314)
20~23ton
(CAT 320)
24~26ton
(CAT 321,324)
25~28ton
(CAT 324,329)
Why Choose Us