Whole Tyre Shredder / Waste Tyre Recycling Machinery / Tyre Shredder
Name: waste tire recycling machine
Use: making waste tire recycled to all kinds of rubber products
Detail machine : Tire cutter ,Rubber Cracker ,Rubber kneader ,Mixing Mill ,Extruder,Calender
CE,SGS,as well as ISO9001:2008 Certification
Tire Cutter
Ring Cutter ,Strips Cutter ,Block Cutter ,Wire separator .
2.Rubber Cracker
The main products are plate vulcanizing press, open rubber mixing mill, banbury intensive kneader, extruder, rubber machinery, textile machinery,shot blast cleaning machine, foundry machinery, woodworking machinery, wheel barrow and tire etc. The products have been sold to more than 20 provinces and cities in China and have been exported to more than 30 countries and areas. All of the products are designed visually by three-dimension CAD design, quickly built module, limited element analysis, analogue action and interfering inspection.
The combination of three-dimension CAD system and internet guarantees the synchronization with international advanced technology. The combination of three-dimension CAD and CNC numeral process center realizes the transit from traditional manufacture to modern three-dimension manufacture.
At the same time, the company keeps good contact with several universities and research institutes. The company takes "To live by quality, To develop by reputation", we have CE, ISO9001, SGS certification of products.
To innovate by science and technology, To keep improving all the time "as managing ideas, and insists on the principle of "Quality is the first, Reputation is the first, Client is the first" that will provide you the best service.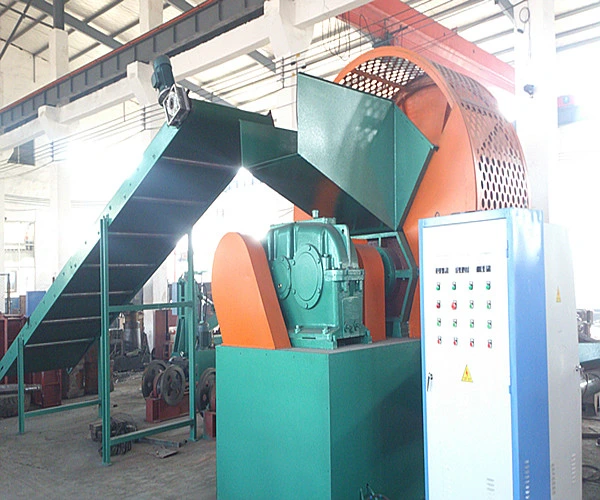 No
Name
model
quantity
Power
whole tire pre-processing , you will get < 50*50MM rubber crumb
1
Ring cutter
QQJ-20
1
5.5 KW
2
Strip cutter
QTJ-380
1
5.5 KW
3
Loop machine
YQJ-285
1
15KW
4
Block cutter
QKJ-45
11KW
Rubber powder processing: you will get 3-8 MM rubber powder,at the same time, separate the fiber and steel wire
5
Tyre crusher
XK560
1
75 KW
6
Big conveyor equipment
BCL-8
2
2 KW
7
Small conveyor equipment
BCL-3
1
1.1 KW
8
Big Magnet separator
BMS22
1
2.2 KW
9
Small Magnet separator
SMS-1
1
1.1 KW
10
Big Shaking screen
BSS-8
1
7.5 KW
11
Small Shaking screen
SSS-3
1
3 KW
12
Fiber separator
FS110
1
11 KW
13
Fine grinder
XMF420
1
32.4 kw
14
Circle shaking screen
DIA600
1
2.2 kw