FLOATING YOKOHAMA PNEUMATIC RUBBER FENDER
NanHai is a specialized supplier of marine fendering products for the maritime industry. We are locating in China, with stocks and agents worldwide. Our worldwide operations enable us to maintain close contact with the market, build strong relationships and provide good service to new and existing customers.

NanHai offers Pneumatic Rubber Fender with Tire Chain Net (Yokohama type), foam-filled fenders, solid rubber fenders and accessories related to ship-to-ship (STS) and ship-to-dock (STD) operations.

Our Pneumatic Rubber Fenders are manufactured in full compliance with ISO 17357:2014.

Whether your business is STS STD operations or you require fendering for attending ports, NanHai will supply your full package.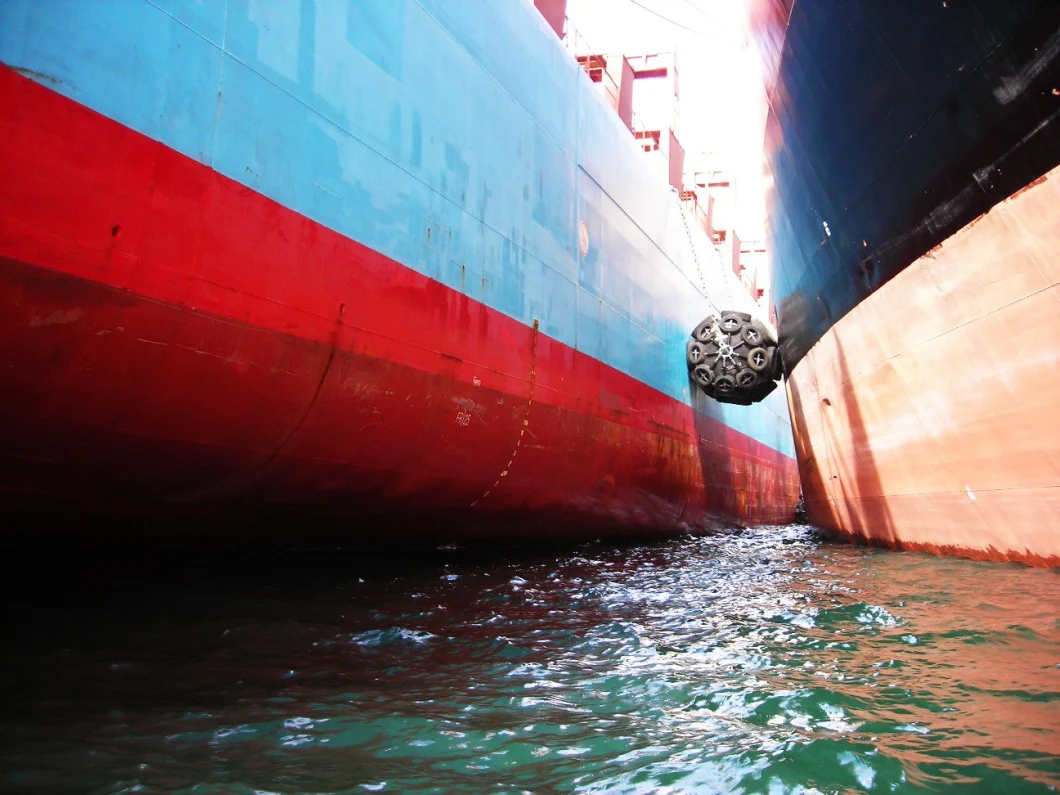 THAT'S THE NANHAI PROMISE

• BV & ISO17357 standard guidelines ensure superior product quality
• High precision design engineering & advanced manufacturing processes
• High-performance guarantee
• 24-hour emergency response support
• Reputable global marine third party inspection options available.

NanHai has been supplying customers worldwide with high quality pneumatic fenders. NanHai is a leading professional manufacturer of pneumatic rubber fenders. Our raw materials are also sourced from top quality suppliers. Quality high-pressure pneumatic fenders should have ISO 17357-1 compliance, whereas low-pressure floating pneumatic rubber fenders should adhere to ISO 17357-2.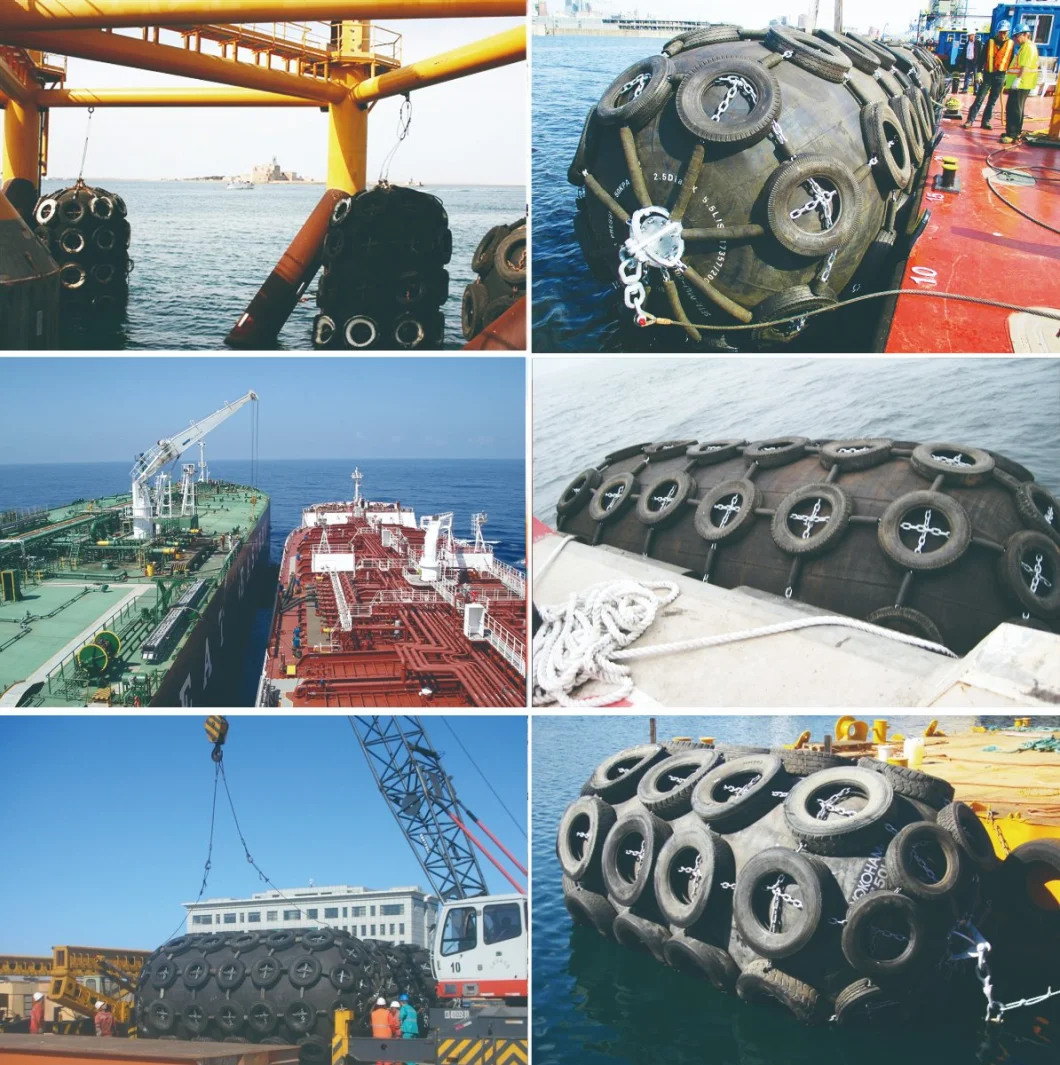 THE STRUCTURE OF NANHAI - PNEUMATIC RUBBER FENDER

NanHai pneumatic rubber fenders have a three-layer body (as per ISO 17357:2014): outer layer, tire cord and inner layer. The fenders have a standard internal pressure of 50kPa and can also be delivered with 80kPa.

1. Net-type fender: fenders which are covered by a tire chain net, each end shall be linked together with one to two ring(s).
2. Sling-type fender: fenders which are designed to be used without a protection net.

Initial internal pressure:
1. Pneumatic fender 50 (initial internal pressure 50 KPa)
2. Pneumatic fender 80 (initial internal pressure 80 KPa)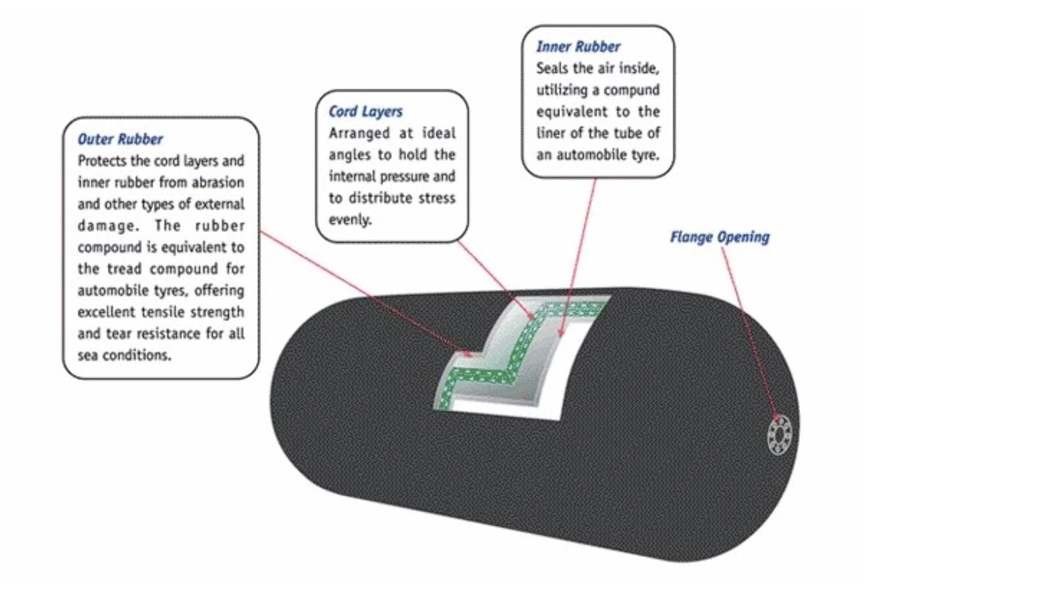 1) Outer rubber layer
Rubber layer that covers the outside of the fender to protect the cord layers and the inner liner rubber from abrasion and other external forces.

2) Inner rubber layer
liner of a rubber membrane that seals the pressurized air inside the fender. (In general,we will make some inner rubber container in advance and inflate them.few days later, we will test the pressure again. The one which it's pressure did not change is good one. We will put it into store and when clients order we can use it directly. This can ensure every fender we send to client is airtight one)

3) Synthetic-tyre-cord layer for reinforcement layer
layer made of synthetic-tyre-cord fabric which maintains the internal air pressure of the fender.

4) Flange opening
which is mounted on the fender to which an air valve can be adapted. (our flange are all Embedded welding, very stable)

5) Initial internal pressure
Air pressure at which an uncompressed fender operates.
NANHAI - PNEUMATIC RUBBER FENDER INSTALLATION

The cable for fender is tied to anchor post at a ship or bulkhead wall.
The fender is mounted in a ship as shown in Fig.
The fender is mounted at bulkhead wall as shown in Fig.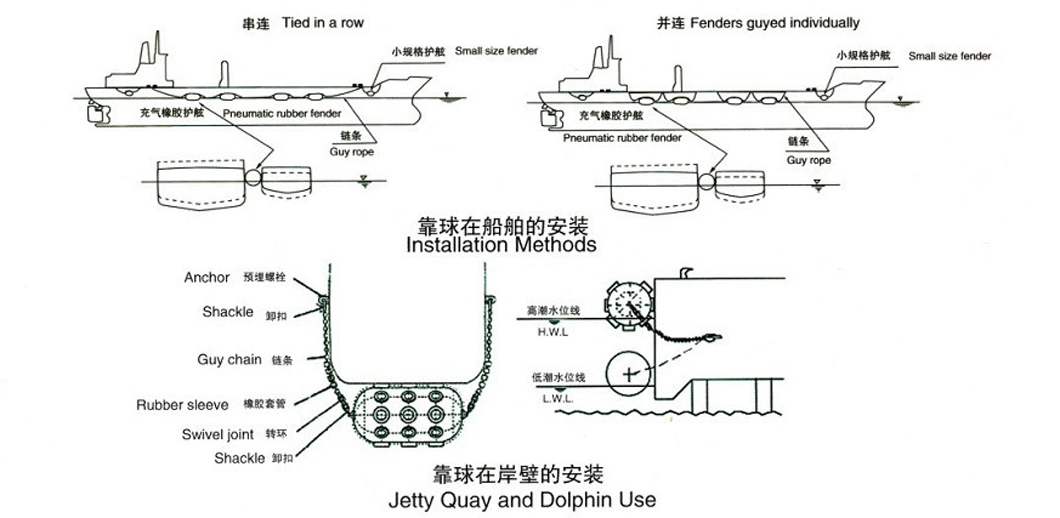 SELECTION OF NANHAI - PNEUMATIC RUBBER FENDER

The following tables list general use conditions for several types of ships as reference during selection of pneumatic rubber fender. The number of fender at each chord shall be determined according to ship length and operating conditions.
The fenders selected for various ships are listed in Tables 1 and 2.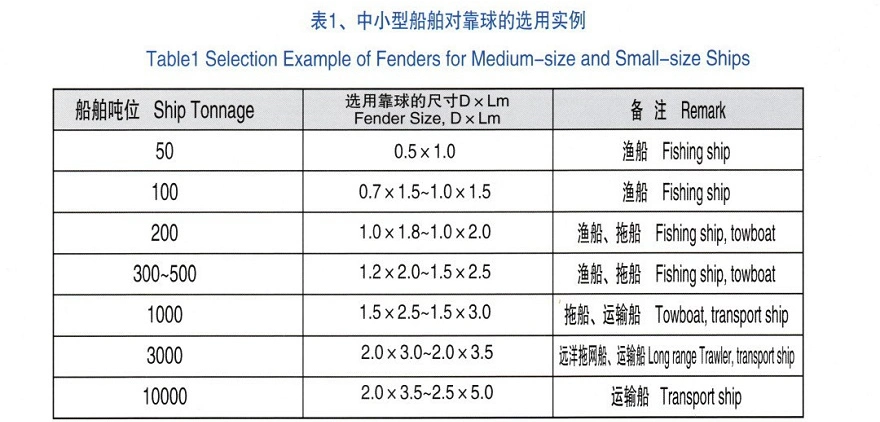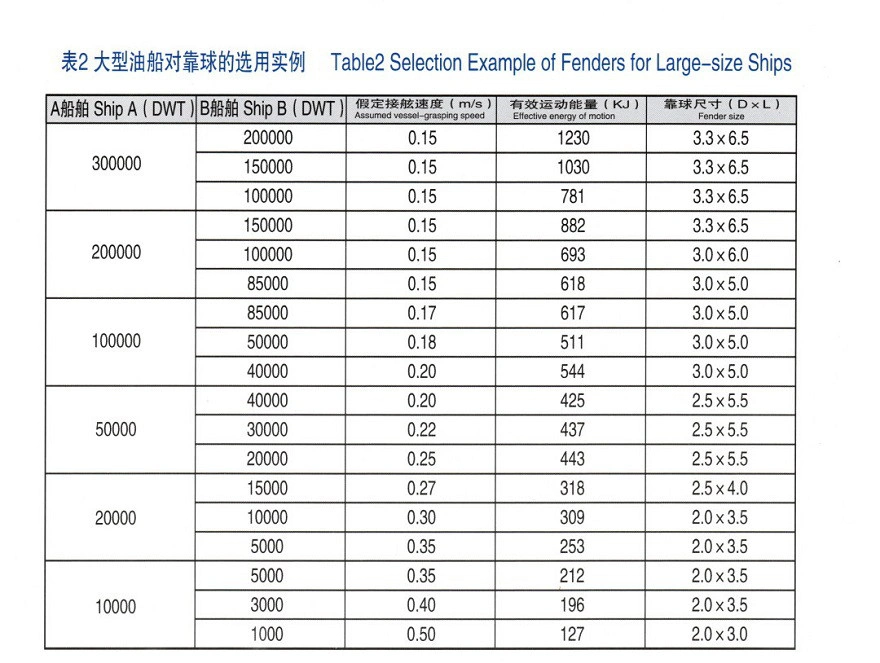 NOTES ABOUT APPLYING NANHAI - PNEUMATIC RUBBER FENDER

1. Frequently check whether the airbag spheroid is damaged and whether the pressure is normal.
2. The steel wire should wrap the rubber pipe, when tying steel wire to Pneumatic rubber fender in case the pneumatic rubber fender is stabbed.
3. The surface or subject next to the pneumatic rubber fender can' t be hard and sharp-pointed in case the pneumatic rubber fender is stabbed.
4. When applying the pneumatic rubber fender, the rope net should be reliable, the steel wire used for hanging metal parts and the hook link can' t be tied in disorder.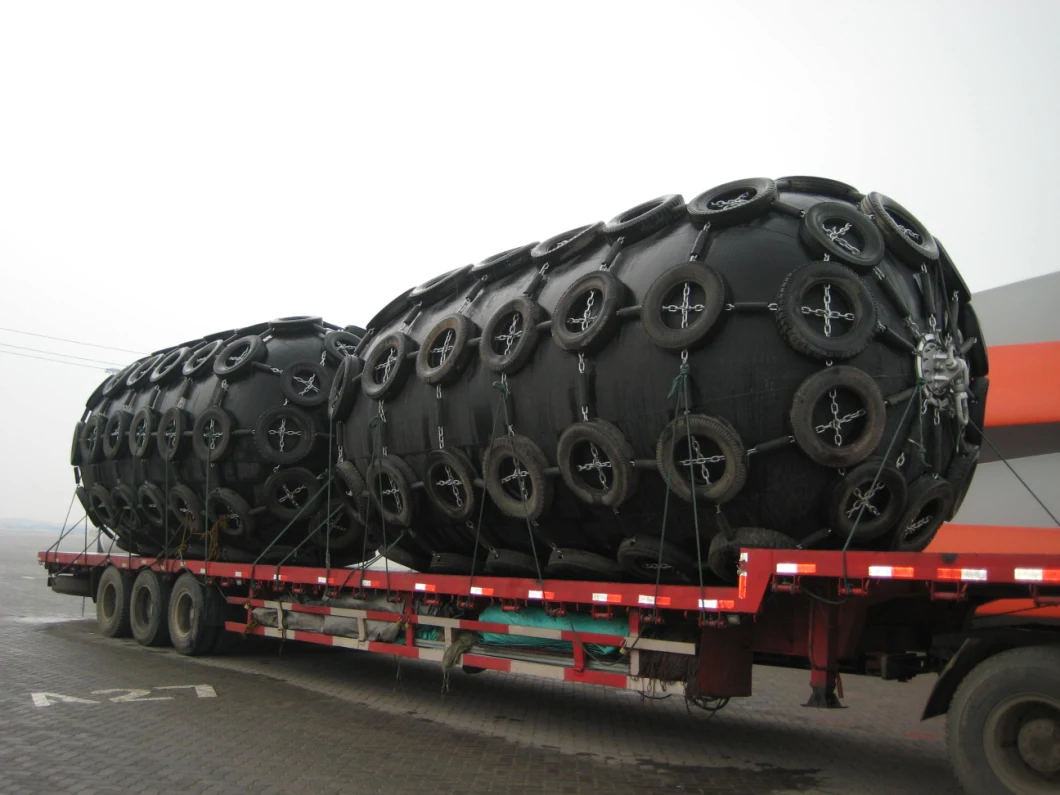 NANHAI-PNEUMATIC FENDER SPECIFICATION
Nominal size

INTERNAL PRESSURE 0.08Mpa
at 60% deflection

Safety-valve pressure setting

Testing pressure

Diameter

Length

Energy absorption

Reacion force

Hull pressure

mm

mm

kN·m

kN

kPa

kPa

kPa

500

1000

8

85

174

-

250

600

1000

11

98

166

-

250

700

1500

24

180

177

-

250

1000

1500

45

239

160

-

250

1000

2000

63

338

174

-

250

1200

2000

88

390

166

-

250

1350

2500

142

561

170

-

250

1500

3000

214

761

174

-

250

1700

3000

287

840

168

-

250

2000

3500

430

1150

168

-

250

2500

4000

925

1815

180

230

300

2500

5500

1317

2653

195

230

300

3000

6000

1890

2906

196

230

300

3300

4500

1640

2476

171

230

300

3300

6500

2532

3961

191

230

300

3300

10600

4281

6907

208

230

300

4500

9000

6633

7551

192

230

300

4500

12000

9037

10490

202

230

300
Nominal size

INTERNAL PRESSURE 0.05Mpa
at 60% deflection

Safety-valve pressure setting

Testing pressure

Diameter

Length

Energy absorption

Reacion force

Hull pressure

mm

mm

kN·m

kN

kPa

kPa

kPa

500

1000

6

64

132

-

200

600

1000

8

74

126

-

200

700

1500

17

137

135

-

200

1000

1500

32

182

122

-

200

1000

2000

45

257

132

-

200

1200

2000

63

297

126

-

200

1350

2500

102

427

130

-

200

1500

3000

153

579

132

-

200

1700

3000

191

639

128

-

200

2000

3500

308

875

128

-

200

2500

4000

663

1381

137

175

250

2500

5500

943

2019

148

175

250

3000

6000

1309

2387

148

175

250

3300

4500

1175

1884

130

175

250

3300

6500

1814

3015

146

175

250

3300

10600

3067

5257

158

175

250

4500

9000

4752

5747

146

175

250

4500

12000

6473

7984

154

175

250
FOR NANHAI BRAND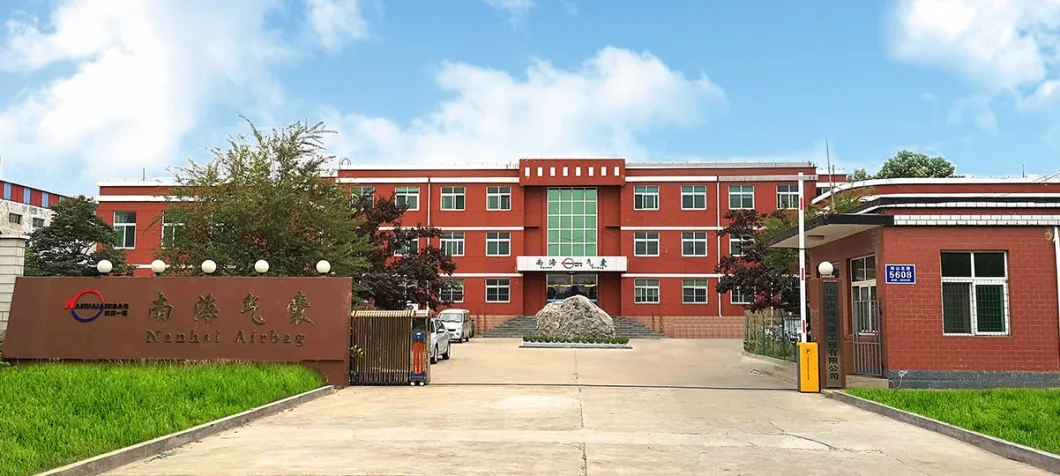 NanHai Brand established since 2003, Own advanced brand effect in the world. we have always focussed on our valued customers and committed to airbags and pneumatic fenders manufacture and R&D. As time moves on, we are continually engrossed in the challenges of this ever changing world.
Our commitment to you, our customers, is that we endeavour to provide the best value solutions to your technology problems.
During company development history have very famous project case and abundant experience.
We look forward to meeting your challenges of the future as a significant supporter of your business.

FOR NANHAI QUALIFICATION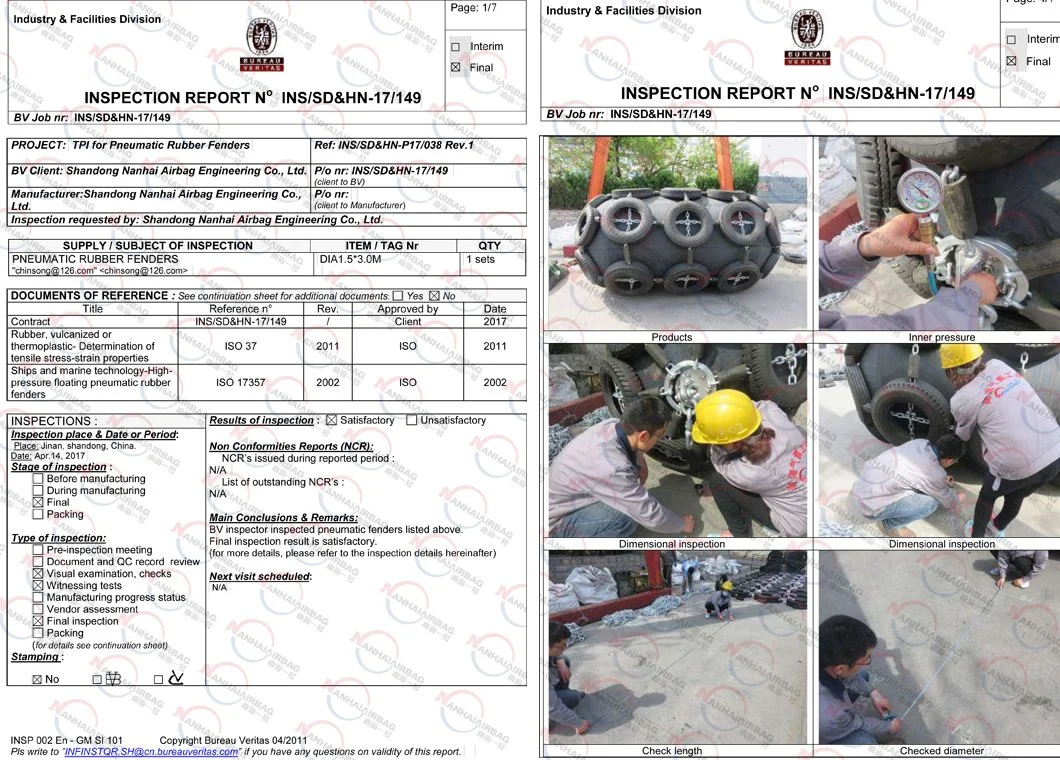 FAQ

1."I have ships but don't know how to choose the size of marine fenders, can you help me."
Answer: Don't worry. We have more than 20 years' experience. Pls tell me information of your ship, we can suggest suitable size for you.

2."I want to try your marine fenders, but I never use it and don't know how to use, can you help me?"
Answer: Don't worry. We will send instruction book together with marine fenders.

3."What's your MOQ?"
Answer: Our MOQ is 1PC.

4."How about the lifespan of your marine fenders?"
Answer: Designed lifespan of our marine fender is 6 to 12 years

5."What's your warranty period?"
Answer: Our warranty period is 2 years. we will responsible for the repairment or replace the new ones for you if it proved to be our quality problem.

6."What kind of certificate can you provide ?"
Answer: CCS, SGS, BV, ISO17357 etc. certificate is available