Pneumatic rubber fender is the advanced anti-collision device for marine application in the world. Pneumatic Rubber Fender also known as floating fender or Yokohama type rubber fender, it is often installed on the terminal or ship, which aims to absorb or reduce the collision energy between ship to ship and ship to dock. This kind of product can protect the ship or dock from the damage of collision. With inner compressed air, it can float on the water and widely used as protecting medium equipment. Size : D0.5 m x L1.0 m ~ D 3.3 x L6.5m. "XINCHENG" Pneumatic rubber fenders are produced in strict accordance with the ISO17357-2002 and GB/T 2002-2002 international quality standard, our products have exported to all over the world.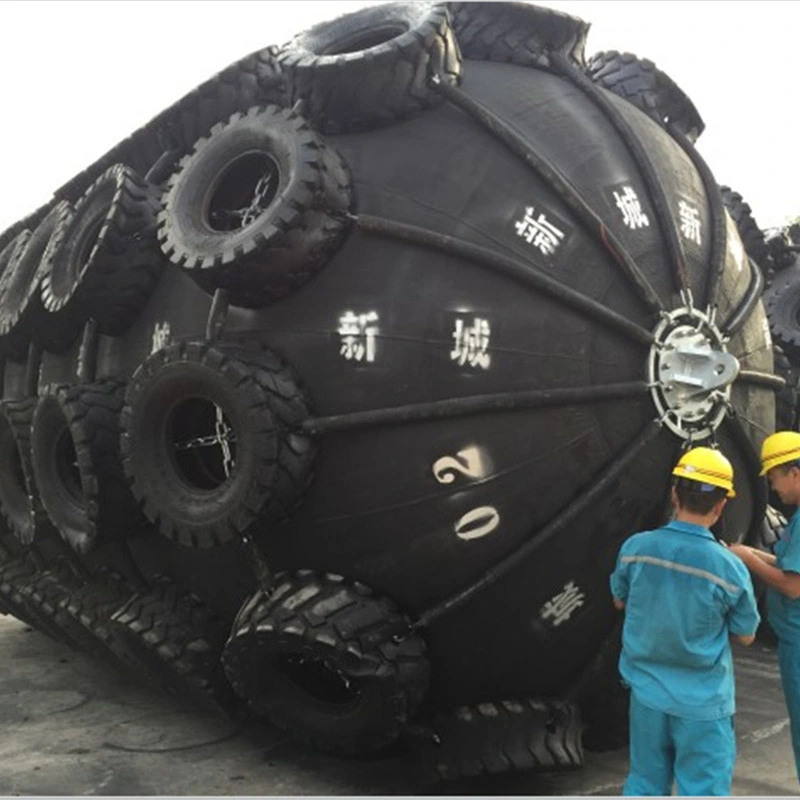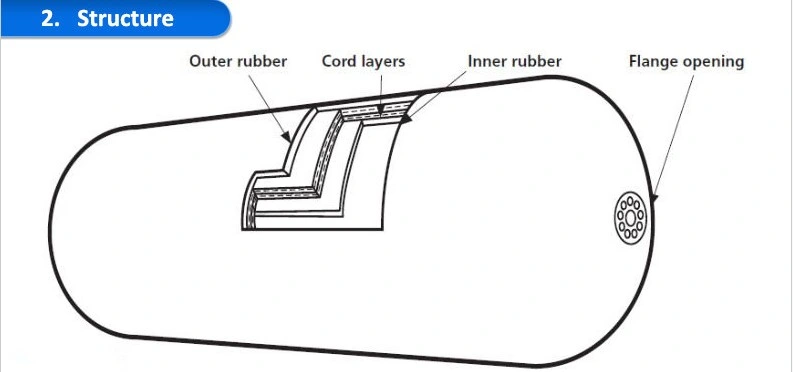 a. Outer Rubber
Cover outside on the ball of rubber layer, which is used to protect skeleton material and inner rubber ball from damage of external force, the main features: high strength, wear resistance, ageing resistance and tear resistance.
b. Synthetic cord reinforced rubber layer
Reinforced cord rubber layer is composed of winding Synthetic cord layer, It is mainly used for maintain the internal air pressure, which has good elasticity, no deformation and high power etc.
c. Inner Rubber
On the ball inside the rubber layer, which is used to prevent air leakage and control the ball pressure.
d. End Flange
The metal parts at both ends of fender, which can be fitted with charging valve and safetyvalve.

Normal size

Diameter x Length

Initial Internal pressure 0.05MPa

Initial Internal pressure 0.08MPa

Guaranteed Energy Absorption(GEA)

Reaction Force At GEA(RF)

Hull Pressure At GEA(PR)

Guaranteed Energy Absorption(GEA)

Reaction Force At GEA(RF)

Hull Pressure At GEA(PR)

mm x mm

KN

Kpa

Kpa

Kpa

500x1000

6
64
132
8
83
174

600x1000

8
74
126
11
96
166

700x1500

17
137
135
24
178
178

1000x1500

32
182
122
44
235
161

1000x2000

45
257
132
63
335
174

1200x2000

63
297
126
86
386
166

1350x2500

102
427
130
140
554
170

1500x3000

153
579
132
211
751
175

1700x3000

191
639
128
263
830
168

2000x3500

308
875
128
424
1138
168

2500x4000

663
1381
137
925
1815
180

2500x5500

943
2019
148
1317
2653
195

3000x5000

965
1815
148
1341
2359
198

3300x4500

1175
1884
130
1640
2476
171

3300x6500

1814
3015
146
2532
3961
191

NOTE:1.REACTION FORCE AND ENERGY ABSORPTION TOLERANCE IS ±10%

2.WEIGHT TOLERANCE IS ±10%

3.SPECIAL SIZE CAN BE PRODUCED FOLLOW CUSTOMER'S NEEDS
Qingdao Xincheng Rubber Products Co., Ltd, as a Professional manufacturing Company, which was founded in 1986. The Company is a production, scientific research and design, product development, technical services for the integrated enterprise.
The Company is mainly produce pneumatic rubber fenders , marine rubber airbags , foam filled fenders and other rubber fenders etc, which as the leading enterprise has passed the certification of CCS , ISO9001:2008, SGS, BV etc.
Since the 2000, the Company has accumulated a lot of production experience in the field of marine rubber airbags and fenders, which has bring together a large number of professional design and production technical personnel. The Company always adhere to improve product quality and customer service. In 2011,China top 10 rubber products production
enterprise" and "China rubber seal products production top ten best-selling famous brand"; In 2015,Company won the China shipbuilding industry group outstanding product suppliers. For now, our products have exported to all over the world, such as Southeast Asia, Middle East, South America and EU countries etc.